TCO100 Time Code Generator [Obsolete]
The TCO100 is a stabilized oscillator that generates IRIG-B, SMPTE or EBU TIME CODES. Although the TCO100 is designed to work primarily as a companion to the GPS500 master clock generator/receiver, it will function as a high-quality stand-alone source of accurate time code. When combined with a GPS500, the TCO100 will deliver precise time and date information virtually anywhere in the world. When operating as a stand-alone oscillator/time-code generator, the internal clock can be set with front panel switches or via RS232 control and will maintain stable time and frequency for long periods of time without further intervention or calibration.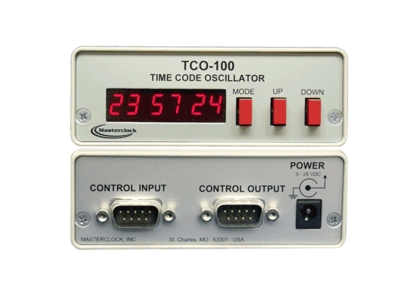 SpecificationsTCO100 Time Code Generator
---
Time Code Output
SMPTE: 24, 25 or 30 fps NDF (Non Drop-Frame)
IRIG-B(1) 1kHz, amplitude modulated
IRIG-B pulse-width coded
---
Timing Characteristics
Reference: UTC/GMT (default)
Date (SMPTE): Included in user bits per Leitch specification
Date (IRIG-B): Included in Control Functions (CF) per IEEE 1344 specification
Short term accuracy: <10 µs (when locked to GPS)
Long term stability: same as GPS atomic clock in GPS satellites (when locked to GPS)
Drift (TXCO): +/- 1 min/year (standalone operation)
---
PPS Output
PPS is synchronized to the 1Hz on-time reference marker of the time code generator and is accurate to within <10us of the aforementioned event. It is approximately 100ms wide and positive-going. Output circuit is a TTL open collector with internal pull-up resistor.
---
Physical Size
1.5 x 4.1 x 5.5 in. (3.8 x 10.4 x 14 cm)
17 oz. (480 g)
---
Power Supply
Input Voltage: 12 - 28 VDC
Input Power Connector: 2.1 mm male
Power consumption at 12V: 2.64W
Battery Operation: Unit can be operated from an external DC power source (12-28 VDC)