NTP100-TCTime Code Server
6-Digit Clock Display (red)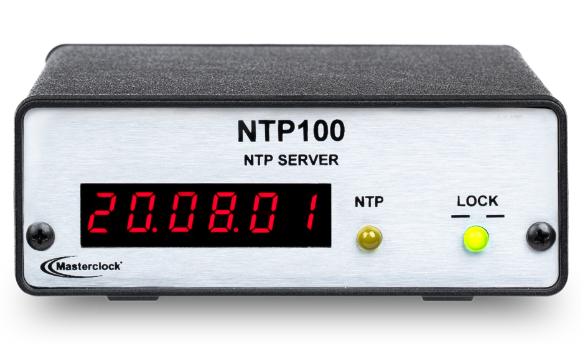 Converts time code to NTP
NTP output accuracy of ± 2 ms
Time stamp precision of 5-10 ms
Time server synchronized to your existing IRIG or SMPTE time code source
Automatically detects time code source
Time codes: IRIG-B0 (DCLS), IRIG-B1 (AM), IRIG-A0 (DCLS), IRIG-A1 (AM)
Time codes: IRIG-E0 (DCLS), IRIG-E1 (AM), SMPTE 12M, 309M, 24/25/30 fps
NTP query (Unicast), Multicast or Broadcast modes
Assignable network configuration
Configuration via Telnet/SSH or included WinDiscovery
IPv4/IPv6 compatible
MD5 authentication
NTP100-TC Time Code Server
The NTP100-TC is an NTP time server that synchronizes to a time code source and converts the signal to Network Time Protocol. It automatically detects the incoming time code source; long-term accuracy is the same as the external source.
With loss of time code, the device will revert to an internal oscillator with accuracy of better than 165 msec/day.
Reference Documents
SpecificationsNTP100-TC Time Code Server
---
Holdover Accuracy
With loss of power or reference, device reverts to an internal precision TCXO temperature-compensated crystal oscillator with accuracy of ± 1min/year or <165ms per day
High-stability option with OCXO provides typical stability of 1 ppb/day or ± 250ms/year
---
---
Connectors
RJ45 ─ 10/100 MB
DC input ─ 2.1 mm male jack
3-pin terminal block (differential time code input)
BNC (single-ended time code input)
USB for configuration
---
Power Supply
DC input (9-28 VDC)
Power consumption: <7.5W
Includes an external 24 VDC wall mount power supply with locking DC plug, UL & CE listed. Supplied with your choice of US, Euro, British or AUS/NZ plug - others optionally available.
---
Network Compatibility
NTP unicast, multicast, or broadcast mode
NTP v2 (RFC 1119) Support
NTP v3 (RFC 1306) Support
NTP v4 (RFC 5905) Support
DHCPv4, DHCPv6 for automatic acquisition of network address, name servers, and timeserver configuration
Telnet/SSH communication
IPv4/IPv6 compatible
SNMP with custom MIB
---
Configuration
Provides dynamic configuration for networking parameters
Network discovery tool provides automatic discovery of NTP devices attached to network without changing PC's networking configuration
Configuration is saved to non-volatile memory and survives power losses
Authenticated network messages prevent unauthorized tampering of clock configuration
---
Physical Size
6.44 x 4.06 x 1.44 in (16.35 x 10.32 x 3.65 cm)
16 oz (453.6 g)
---
Case
Cover: black aluminum
Front/rear panel: clear anodized aluminum
---
Operating Parameters
Temperature: 0 to 60°C
Humidity: Up to 90% (non-condensing)
MTBF: 625,979 hours (Calculated using Fixed/Ground Mil HDBK 217F assumptions)
IP Rating: IP30
---
Compliance
CE Marked - Available for sale in EU
FCC, Part 15, Class B, emissions
Related Articles
Latest Scientific Editorial by Dr. Demetrios MatsakisIntroducing Modern Timekeeping & Time Transfer