TCS100 Time Code Switcher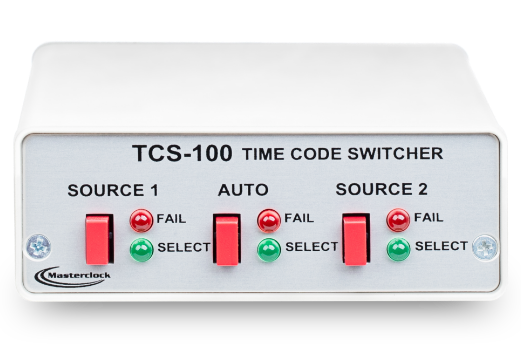 Accepts SMPTE / EBU or IRIG-B (modulated and unmodulated TC)
Front panel switches allow manual selection of source A or B or automatic mode.
"Good" - "Fail" indication and selection status of each TC source and the changeover unit is shown with front panel LEDs.
An auxiliary A/B source can be switched along with the TC. This auxiliary switching is a relay contact and can be used to switch any low level control or signal source.
Internal alarms sound (can be disabled with jumpers) upon loss or failure of a source of TC or switcher unit.
Status and other system information is provided via a simplex (one-way) RS-232, 9600 BAUD
TCS-100 Time Code Switcher
The TCS100 is a time code changeover unit designed to provide automatic or manual switching between two time code sources. The unit decodes both sources of incoming time code, compares availability and quality of both sources to an internal standard, and makes logical decisions concerning time code status for automatic switchover.
Reference Documents
SpecificationsTCS-100 Time Code Switcher
---
I/O Connections
TC inputs: isolated BNC: unbalanced
TC output: isolated BNC: unbalanced
Auxiliary switching via DB-9
External alarm via DB-9
DC Input
---
Power
DC input (9-28 VDC)
External wall mount supplied via 2.1mm power connector, UL & CE listed
Power consumption: <6 watts
Supplied with US, Euro-plug, British or AUS/NZ (Others optionally available)
---
Operating Parameters
Temperature: 0 to +60°C
Humidity: Up to 90%, non-condensing
---
Physical
Size: 4.2w x 1.5h x 5.5d in (10.6w x 3.8h x 14 cm)
Weight: 16 oz (454 g)
---
Case
Cover: Eggshell white aluminum
Front/rear panel: Burnished aluminum
---
Related Articles
Latest Scientific Editorial by Dr. Demetrios MatsakisIntroducing Modern Timekeeping & Time Transfer